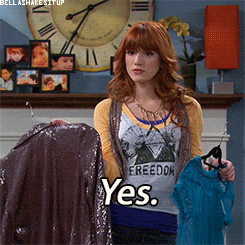 When she was 17, Bella Thorne shared her feelings about her larger chest during a Teen Vogue interview: "I've always been flat-chested. It is only this year, at 17, that I started to develop boobs. I mean, finally!"
Two years later, she's making her feelings known to the world via social media, proudly posting photos and videos showcasing her chest – accidentally and accidentally-on-purpose.
Just last Monday, Bella was photographed in New York in a cropped pink hoodie that showed a lot of her glittered underboob. And in an Instagram story she posted, the actress was all hashtag-free-the-nipple. In her video, Bella accidentally exposes one of her nipples. She quickly covers it up – but she still published the footage.
A fan wrote "YOUR NIP SLIP IS ALREADY A GIF LMFAOOOO", and Bella retweeted it along with the said GIF.
This is one actress taking charge of her body. Her body, her rules!