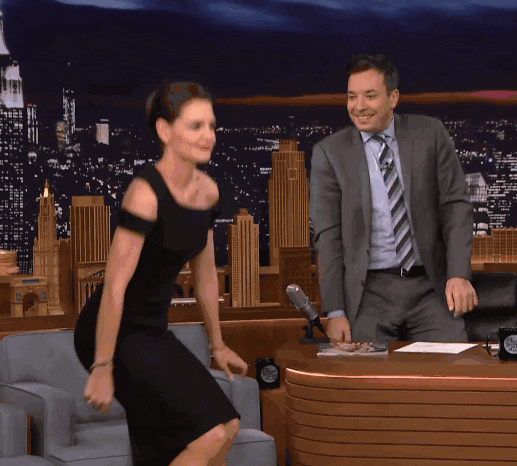 Katie Holmes is finally free – freely showing off her long-rumoured relationship with Jamie Foxx to the world!
And we couldn't be happier for her!
Katie, who is divorced from Tom Cruise, and Jamie, who starred with Tom in 2004's Collateral, have been hounded by dating rumours for years. From that first fateful moment the two were photographed clearly having fun together at a Hamptons charity party in 2013, the universe began to suspect that Katie and Jamie might be a thing.
There was even cute video footage of them dancing together then too. Check it:

For the next four years, talk of them being together continued to surface – even as they painstakingly tried to avoid being seen or photographed together, and even as they both publicly shut down all the talk many, many times over. All this amid claims that Katie was bound by a (never confirmed but much talked about) clause in her divorce stating that she could not go public with a new relationship for five years – so as not to "embarrass" her ex-husband.
But over Labor Day weekend, the two seemingly, finally confirmed that they were really and truly a couple – via photos of them taking a stroll along a private beach. Alone together. Hand in hand. For the first time since this all started.
This marks the first time Katie and Jamie freely spent alone time together, and held hands for all the world to see. And we gotta say, they look totally together, happy, and in love!
Coincidentally, Katie and Tom's divorce was finalized in August 20, 2012 – just over five years ago.