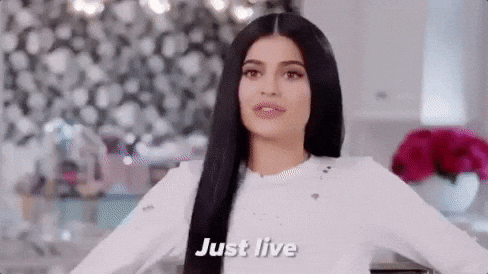 Kylie's Side Of The Story
On her reality show "Life Of Kylie", we finally got to hear Kylie Jenner open up about her relationship with Tyga – and we were able to glimpse how she was really feeling about their split. "The hardest part about having a relationship for me is just that it's blasted all over the internet," she tells dad Caitlyn Jenner. You have to hear about other people's opinions on who you're with. It's a lot. Most of the time it's just not true. Like, you have no idea what I'm like in a relationship, [or] what kind of bond I have with somebody else." She adds, "You cannot win with the Internet. There's no winning. It's just unnecessary negativity. I feel like I'm in a relationship with the world sometimes." Oh, Kylie. *hug*
Say Hello To Maybelline's New Rainbow Highlighter
Maybelline recently released its Master Fairy Highlighter – and it is magical! This ultrafine illuminating powder creates a super pretty rainbow pattern that gives you that perfect "oh-i-just-got-sprinkled-by-fairy-dust" look. Time to get our hands on one of these whimsical babies!
The Jetsons Goes Live-Action
Ah, The Jetsons. A classic cartoon, part of many people's childhoods – and now apparently about to become a live-action tv show! ABC has just greenlit Robert Zemeckis' live-action sitcom based on The Jetsons. It's a put-pilot commitment too, meaning the network will have to air the pilot or face financial consequences. That tells us that we'll pretty much be seeing George, Jane, Judy and Elroy in the (TV) flesh for at least one ep (the show's pilot). Wonder who'll get cast?
Mufasa And Scar: NOT Related
Come on, we all thought it. Ever since The Lion King movie was released in 1994, one of the things we've always accepted as fact is that Mufasa and Scar are brothers. But hold on to your seats, because NEWSFLASH: They're NOT. Director Rob Minkoff and producer Don Hahn said in an interview with Hello Giggles that Scar and Mufasa do not share the same parents and "couldn't really be from the same gene pool." MIND. BLOWN.
Robin Thicke's About To Become A Dad Again, Y'All
Just call him Daddy, because Robin Thicke and his girlfriend are expecting! Robin's girlfriend, 22-year-old April Love Geary, is three months pregnant with the 40-year-old singer's baby girl. Robin has a 7-year-old son with ex-wife Paula – who he still isn't officially divorced from, and who he has on and off custody battles with. April is due to give birth March of next year.