The latest on FENTY Beauty? Well, if you follow Riri on all her social media outlets, you'd know what's up. The instant makeup mogul has been sharing the latest addition to her collection- 'stunna.' However, she took a different and more relatable route in promoting the lip paint. Ya girl dropped the very first Rihanna Makeup Tutorial for us all! Naturally, we are obsessed and so were 58 million of her followers!
Find out why:
I mean who would dare laugh at her stunning lips, moreover, her perfect-shade-of-red lip paint? The singer also showcased how the color goes well on most skin colors. She even shared the photos herself!

Of course, she modeled it on herself!

Only a little over a week ;til we can get our hands on #stunna! Everybody's gonna be rushing to Sephora to get a piece because that color and formula looks great, Rih!
We can just see Rihanna sit back and wait for Stunna to sell out in seconds like…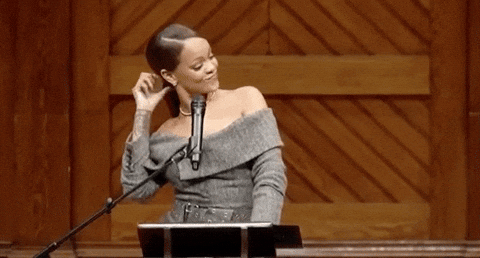 Thanks for slaying us all, Rih. Also, we need a Rihanna Makeup Tutorial part 2!