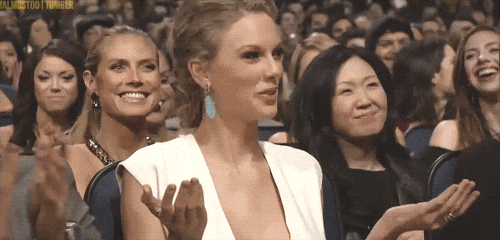 How to properly freak your fans out – in total style:
Step 1: Blank out all your social media accounts on a Friday
Step 2: Maintain radio silence as everyone wonders over the weekend
Step 3: Go back online Monday with one simple, cryptic post
Yes, that happened. Taylor Swift, Queen Of Everything And So Much More, sent all her fans into a frenzy when she implemented a T-Swift social media blackout on August 18. The multitalented star wiped all her social media accounts squeaky clean, without warning and without explanation.
Oh, BUT THEN! At 11 a.m. ET Monday morning, Taylor went back online via a 10-second clip of a moving reptile tail, shot old-school film style, with the footage flickering and completely silent). This reptile post showed up on her Twitter feed – and on her Instagram, Facebook, and Twitter as well.
What can this all mean??? This whole incredibly intriguing series of events has gotten fans and followers excited that this may be Taylor's way of teasing a new album.
There's been no comment as of yet from Taylor's camp. But we're all on the edge of our seats!